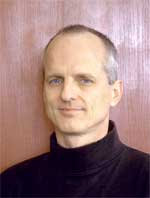 Turtles, tadpoles, axolotls (immature salamanders, to the uninitiated), red-eared sliders, and spring peepers drew me to the rivers, creeks, and swamps of southeastern Minnesota, where I grew up. I haunted the parks and woods with my buddies. We mail-ordered boa constrictors and caimans from Louisiana, and our parents got used to discovering reptiles and amphibians in our heating ducts and couches and cars.
College wasn't as compelling, and I dropped out in my second year, though I am and always have been an eclectic reader and learner. I drifted from job to job and from place to place; I was a bookstore manager in Duluth and a cabinetmaker in Rochester. Finally, I wound up on 128 acres of wooded land in western Wisconsin, where I started a jewelry business with a partner.
Murphy Design's first phone line went to one of our tents. Our refrigerator was propped against a tree. I was delighted when a 54-inch timber rattler appeared under the workshop I was building (the rattler's Latin name, Crotalus horridus horridus, tells you how most people feel about it). I captured it, as I captured many rattlers over the years, and moved it to safer territory. The last rattler I picked up didn't appreciate my interest and bit me on the thumb. Now I stick to the startlingly pretty little red-bellied snakes, hog-nosed snakes, and corn snakes that follow mice into the workshop, which I visit only on weekends since I moved to Minneapolis.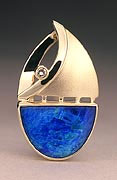 The rocks, gems, and minerals I work with are a logical extension of my lifelong interest in the natural world. JCK magazine recognized Murphy Design's pioneering use of long tapered cabochons in contemporary jewelry when it called me "bullet king" in May 1989. Along the way, I've studied design and gemology through the University of Minnesota, the Minneapolis College of Art and Design, the Gemological Institute of America, and the Revere Academy of Jewelry Arts.
My business suits my restless nature: I'm always doing several things at once-designing jewelry, contemplating a Web page, searching for unusual gemstones. And like most owners of small businesses, I spend a lot of time at the office. When I have time, I like to cut firewood and prune my walnut trees out in Wisconsin, where it all started.